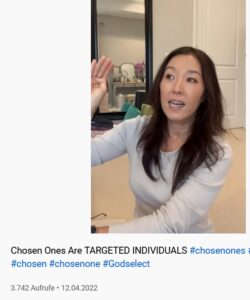 https://www.youtube.com/watch?v=XTjTtP4xgz4
https://youtu.be/XTjTtP4xgz4
"Chosen Ones Are TARGETED INDIVIDUALS"
"#chosenones #noneutrality #chosen #chosenone #Godselect"
"3.742 Aufrufe
12.04.2022"
"connie k yom
8490 Abonnenten
God's Chosen Ones are targeted individuals. While we are HIGHLY FAVORED and PROTECTED by The Most High, we are also on the enemy's radar and he seeks to kill, steal and destroy God's chosen. Read Matthew Chapter 2 and see how Jesus our Lord was a target of King Herod."
Infinity Expression: 7.5.2022: They tried to kill….make no mistake about it…multiple times.
"carefulcarpenter: vor 3 Wochen: "No one more despised than a good example."
connie k yom: vor 3 Wochen: Exactly."
"Psychic Spy: vor 13 Tagen: They are organized crime."
"Tessa Jones: vor 5 Tagen:
Fusion center community agents or neighborhood watch group members or neighborhood on patrol? Or criminals disguising themselves as government employees."
"Denny Barton: vor 2 Wochen: All gangstalkers are of the devil, Satan is the master of lies, it´s mandatory for gangstalkers to lie, my neighbors are gangstalkers, the man told me they play along, because they don't want to be targeted by the freemasons."
"Hitomi Terafuji: vor 12 Tagen (bearbeitet):
White Christianity is actually the ones doing/operating gang talking, group stalking, traumatizing, anchoring, and so on…Stay safe. Today's Bible is edited, many stories are hidden, deleted and erased by Khazars (Fake Semitic radical Zionists/13th tribe), Black Death (They polluted wells in Italy…Black Death clans in Venezia..)..Many real Semitic tribes settled in East. Jesus Christ, Cain, Enki, Marduk, Izanagi, Susa / Magdalene Maria/Ninfursag/Miko, A sacred prostitute, Maria Inanna Ishtar, in reversed) Aphrodite.. En..Ki.. Venus.. A serpent Mamma…"